Quartz MAX 500ml
Durability : 1  month or more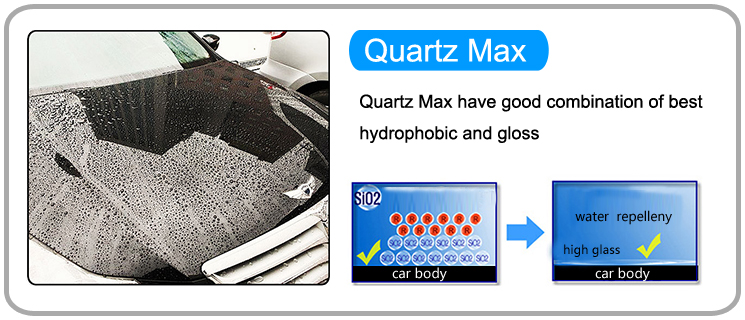 Hydrophobic, high gloss paint protection!
Quartz.MAX Give your vehicle durable glass-like protection. Quartz.MAX is a fast, cost effective way to keep your vehicle well-protected and looking its best!
It's a water-based, spray-on glass. And Quartz MAX repels dirt and water.
Use it as a stand alone sealant for up to 6 months of paint protection or as a booster over Quartz Ceramic Coatings.
Quartz.MAX is not your typical spray wax! Quartz MAX is a water based, special modified Silica – the same compound found in glass.
The silica gives QuartzMAX its fantastic light reflecting properties and a slick shine.
MAX form a thick, substantial coating. In fact, a MAX coating helps prevent fine scratches on paintwork.
It can also be used on rubber, plastic, and glass.  
Quartz Max is durable up to 4 to 6 months, can be applied as coating maintenance too. It is to be applied on dry surface and mainly on paintwork!
1. Clean surface.
2. Shake bottle well.
3. Spray on & wipe off with a short-loop microfiber cloth.
Keep product out of reach from children. Wear suitable gloves. If comes into contact with skin, rinse well with water. If it comes in contact with eyes, rinse immediately and seek medical advice. Do not drink! If swallowed, consult a doctor immediately and show product container and label.